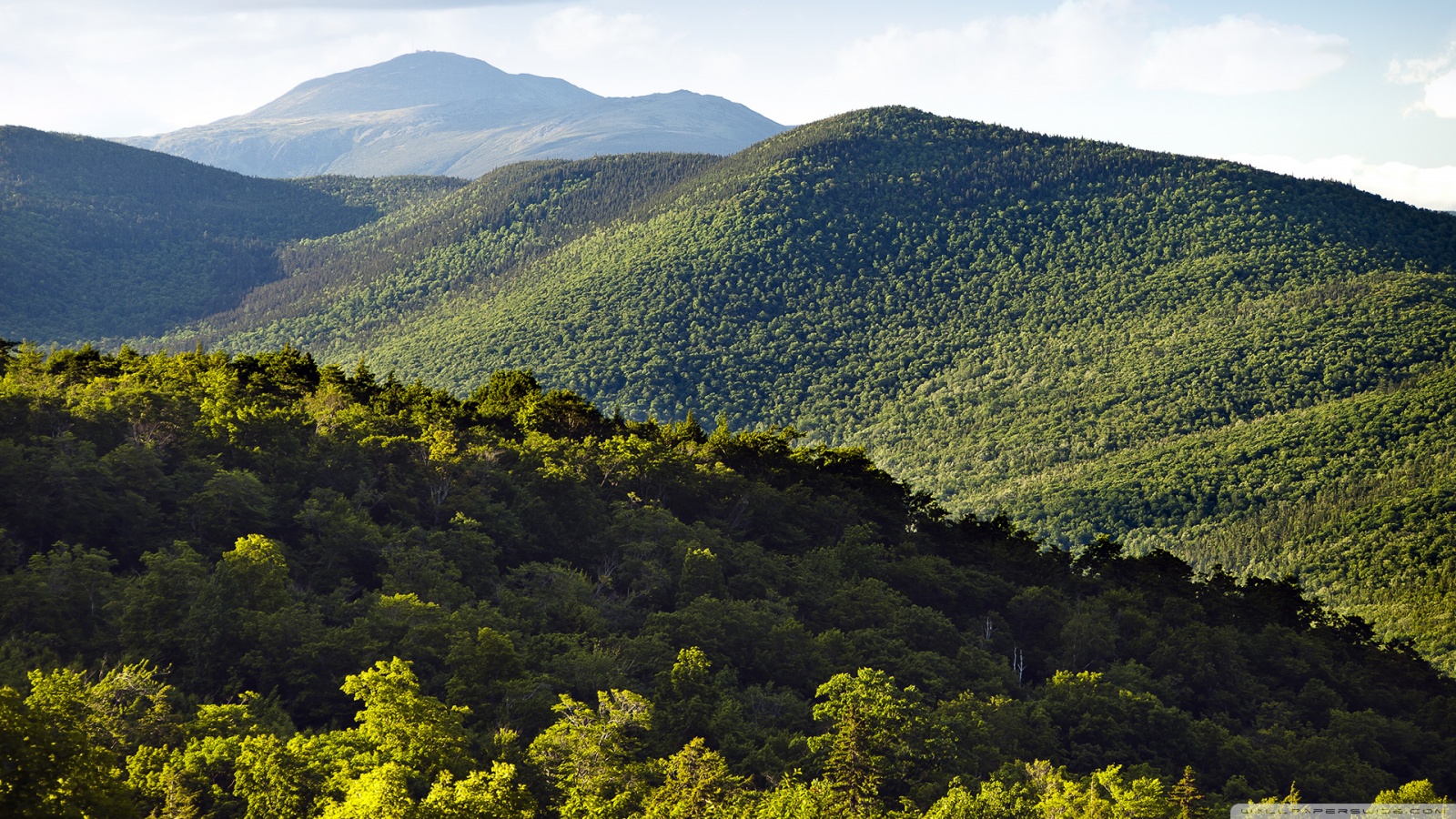 Beautiful Mountains
The White Mountains 4K Peaks
The White Mountains are a mountain range covering about a quarter of the state of New Hampshire and a small portion of western Maine in the United States. They are part of the northern Appalachian Mountains and the most rugged mountains in New England. The range is heavily visited due to its proximity to Boston and, to a lesser extent, New York City and Montreal, Quebec, Canada.
Most of the area is public land, including the White Mountain National Forest and a number of state parks. Its most famous mountain is 6,288-foot (1,917 m) Mount Washington, which is the highest peak in the Northeastern United States and for 76 years held the record for fastest surface wind gust in the world (231 miles per hour (372 km/h) in 1934). Mount Washington is part of a line of summits, the Presidential Range, that are named after U.S. presidents and other prominent Americans.
The White Mountains also include the Franconia Range, Sandwich Range, Carter-Moriah Range and Kinsman Range in New Hampshire, and the Mahoosuc Range straddling the border between New Hampshire and Maine. In all, there are 48 peaks within New Hampshire as well as one (Old Speck Mountain) in Maine over 4,000 feet (1,200 m), known as the four-thousand footers.
The Whites are known for a system of alpine huts for hikers operated by the Appalachian Mountain Club. The Appalachian Trail crosses the area from southwest to northeast.
48 4K Peaks
To claim you have hiked The White Mountains 4K Peaks (the New Hampshire 48) you have to follow the rules. One important rule to know is that you are allowed to bag multiple peaks on the same hike. Therefore, make an effort to summit all of the peaks close to one another on the same hike. It is known as peak bagging.
The most important single word is safety. Be safe while hiking in the White Mountains. Know the terrain, keep an eye on the weather, be prepared, know your own capabilities, and hike with a companion or two.
1
2
3
4
5
6
7
8
9
10
11
12
13
14
15
16
17
18
19
20
21
22
23
24
25
26
27
28
29
30
31
32
33
34
35
36
37
38
39
40
41
42
43
44
45
46
47
48
Washington
Adams
Jefferson
Monroe
Madison
Lafayette
Lincoln
South Twin
Carter Dome
Moosilauke
Eisenhower
North Twin
Carrigain
Bond
Middle Carter
West Bond
Garfield
Liberty
South Carter
Wildcat, A peak
Hancock
South Kinsman
Field
Osceola
Flume
South Hancock
Pierce
North Kinsman
Willey
Bondcliff
Zealand
North Tripyramid
Cabot
East Osceola
Middle Tripyramid
Cannon
Hale
Jackson
Tom
Wildcat, D Peak
Moriah
Passaconaway
Owl's Head
Galehead
Whiteface
Waumbek
Isolation
Tecumseh
6,288
5,774
5,712
5,384
5,367
5,260
5,089
4,902
4,832
4,802
4,780
4,761
4,700
4,698
4,610
4,540
4,500
4,459
4,430
4,422
4,420
4,358
4,340
4,340
4,328
4,319
4,310
4,293
4,285
4,265
4,260
4,180
4,170
4,156
4,140
4,100
4,054
4,052
4,051
4,050
4,049
4,043
4,025
4,024
4,020
4,006
4,004
4,003
6,138
804
742
254
466
3,320
180
1,522
2,830
2,933
350
299
2,240
299
720
299
820
379
230
1,034
1,247
2,240
1,706
200
408
1,247
235
2,240
256
299
246
1,320
2,674
316
1,320
740
614
331
331
1,034
922
803
825
264
591
1,289
203
1,739